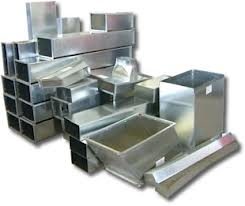 Every day your air conditioner is on, your ductwork moves huge volumes of air from the air handler to each room of your house to keep you cool. So, you need ductwork you can rely on to efficiently move that air. Sheet metal is one of the best materials for ductwork because of its durability and flexibility.
Air Maintenance Heating & Cooling has been providing cooling solutions for homeowners in the Greater Tucson area for more than a decade, so we have extensive experience working with Sheet Metal Ductwork Fabrication in Tucson.  We can do routine maintenance like cleaning and sealing to extensive repairs to  designing new systems. Call us today for all your Sheet Metal Ductwork Fabrication in Tucson.
If you have a new home in need of ductwork or your existing ductwork system is not sufficient to a new HVAC system, you may need a new one. Before the system can be installed, however, careful measurements must be performed to determine the size of your ducts and where they can be placed in your home.
Once the measurements are completed, sheet metal can be fabricated to match those specifications and then installed. Because there are so many steps involved in the process, you want a company that understands the importance of paying close attention to detail. We have been designing and installing sheet metal ductwork systems for more than a decade and can bring that cultivated expertise to your next project.
While sheet metal is very durable, there are certain situations in which it may require repairs. Small gaps can open between lengths of ductwork, a previous installation could have been done improperly or the insulation around the ductwork might peel back. If any of these things happens, you need a company that can efficiently locate the source of cooling loss and fix it fast.
In addition, you should have regular maintenance performed on your ductwork. Our HVAC maintenance services include routine cleaning and sealing as well as testing to check for leaks. If you notice your cooling bill rising sharply or your air conditioner isn't distributing cooling evenly to every room in the house, you should call us for a detailed inspection.
Call Us for your Sheet Metal Ductwork Fabrication in Tucson
There is a reason why Air Maintenance Heating & Cooling has been a leading provider of Sheet Metal Ductwork Fabrication in Tucson.  We take special care in everything we do, ensuring it will not only work well now but for the life of your HVAC system. Call us today to learn more about the services we have to offer.